CNN-Headline News Channel
Interview via Comcast Newsmakers
on Civil Rights and Get It From The Drums

W I K I P E D I A


Inside Cover Story in the
Philadelphia Daily News


PBS nationally syndicated show 'Inspiration'
Featured Interview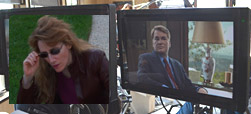 Inspiration Trailer



KYW News Radio 'Gets it' from the Drums
in top-rated morning Drive-time

KYW News Radio-Kim Glovas reporting No.1

KYW News Radio-Kim Glovas reporting No.2


Excerpts of Interviews with

Coretta Scott King

Muhammad Ali

B.B. King

The Gary Null Show


Social Justice commendations





WDASHistory.org
is a virtual web museum visited by readers in 67 countries, spanning 5 continents.
Produced and curated by Wynne Alexander, it chronicles the compelling story of an
extraordinary radio station's involvement and impact on the United States Civil Rights
Movement and entertainment industry.



CNN-Headline News via Comcast Newsmakers
Interview on Malcolm X and Philadelphia's Successful Plan to Protect Him

CNN-HeadlineNews Channel
Interview via Comcast Newsmakers
on impact of WDASHistory.org




50th Anniversary of the 1963 March On Washington
Media Coverage





PHILADELPHIA DAILY NEWS



Three-page coverage on the Untold Malcolm X History at WDAS Radio




Thousands Across the Country Remember Butterball
1942 - 2012





WDASHistory.org has been the subject of numerous radio. television and print interviews and
recently made headlines inspiring a new generation of writers and film makers.

WDASHistory.org Headlines at KYW News Radio

Reporter Karin Phillips KYW News




Pennsylvania House Resolution 858
honoring filmmakers and WDASHistory.org

Alexander Public Testimony during
Latino Voting and Civil Rights Battle in Pennsylvania






Genuine Inspiration from the Nation's Toughest Streets

Narrated, written and directed by W. Alexander



Film Won The Lighthouse $10,000 from WaWa Incorporated
Film excerpts aired on 10-NBC News



National Innovations and Educational Excellence
Narrated, written and directed by W. Alexander






Mini-Documentary on Turning Points for Children
Narrated, written and directed by W. Alexander






Rescuing Quality Education for All
Narrated, written and directed by W. Alexander






Impressive Advances in Chilean & American Trade Relations
Throw Spotlight on Business Pioneers
Narrated, written and directed by W. Alexander





Mini-Documentary on Latino Civil Rights and Economic Empowerment
Narrated, written and directed by W. Alexander

Film aired in its entirety on 6-ABC Television


Chilean Ambassador, Delaware's U-S Senator and Governor
on Chilean-American Economic Progress
Narrated, written and directed by W. Alexander